Amirali Rajan helped port "A Dark Room" to mobile, adding features in the process such as extra text and alternate endings.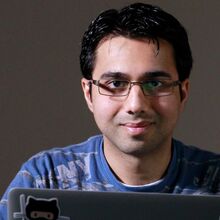 He has a mastery of
Ruby on Rails
JavaScript
C#
ObjectiveC
F#
OSS: NSpec
Oak Mvc
Canopy F#
A Dark Room The Ensign Noble Circle Mildly Interesting RTS
He received a B.S. in Software Engineering and a B.S. in Computer Science from the University of Texas at Dallas in 2006.
Rajan's website Other creations and qualifications Rajan's GitHub Rajan's Twitter
Community content is available under
CC-BY-SA
unless otherwise noted.